Over the holidays, we released two special episodes recalling the most impactful moments with our esteemed guests on The Disruptive Successor Show:
"Family Time, Holidays, It's a Wonderful Life"
"Family Time, Holidays, It's a Wonderful Life (Part 2)"
Read the highlights from each guest appearance below to learn insights, lessons, and strategies from disruptive successors from all industries and levels of growth. You can also check out each episode (linked in the titles) to hear the full conversation.
Bill Yoh is the Chairman of the Yoh Group and Co-Owner of Day & Zimmerman, a 45,000-employee, century-old business. Bill is the youngest of 5 brothers and is a third-generation owner. In this episode, we discuss Bill's ascension to leadership in a multi-generational business as well as how next-generation leaders should drive the succession process.
Jeff Jappa is the CEO and President of JMC Wood Manufacturing (formerly Jappa Construction Company). Jeff is a friend of Jonathan's from USC's MBA program.
His next-generation story, which Jonathan has followed for 34 years, is one where the passing of the torch from father to son was fraught with a lot of heartache. His family's business had dropped from $6 million to $2 million in revenue at the time Jeff took it back over.
Ever since then, he has delivered innovation that's grown the business to over $20 million in sales.
This episode is a wonderful story of an Indian family and hotelier turned internet mogul. Avi Arya took his own path at the dawn of the internet age, broke away from his family business, and founded Internet Moguls. Being a disruptive successor is not always about making changes within, it's also about breaking traditions and bringing your career to the next level. In this episode, Avi talks about the adversities in his journey and taking the time to work on your realization. 
A creative person, Nick Gray is a next-generation leader who took his parents' company and provided disruptive innovation that grew the business. Nick, a serial entrepreneur and founder of a museum tour company called Museum Hack, worked closely with his parents in their family business, Flight Display Systems. In this episode, Nick talks about how he started and sold both of these companies as well as the launch of his new best-selling book, The 2-Hour Cocktail Party. This book shows you how to party with rules and start new relationships that could potentially lead to business.
We also have a recap blog on our website that covers his story more in-depth. Check it out here.
Phelps Wood is the founder of Tres Arcos Partners and is an advisor and executive director with a family-business focus. The story of Phelps Wood is one of a family member who was brought in as a consultant to handle the succession either to the next generation or to sell his family's business. In the episode, Phelps talks about the importance of succession planning and what are the things you need to know before doing so. Note: Phelps and I met a year earlier, but his family's business was in an upheaval while being sold, so we waited one year before recording this episode. 
Bobby Marchenese is the owner and president of Auto Wash. Bobby is a small-town entrepreneur and next-generation leader in the Finger Lakes of New York State who has taken his one family car wash and scaled it to six locations. Today, it's a well-run enterprise that has attracted professional money and acquirers. 
Bill Smith is the founder of Double Iron Consulting and serves on the board of his family business, Royal Cup Coffee and Tea. In this episode, Bill unpacks the story of Royal Cup's humble beginnings, its succession through generations, and each generation's disruptive strategies that evolved the company from a regional to a national scale.
Richard Grove is a fellow podcaster and the COO of his family business, Wall Control, Inc, a brand of wall storage and organization systems, which started as a small tool and die shop in the 1960s that has grown and evolved throughout the decades. Richard originally walked his own path by working as an engineer for the Department of Defense, but as much as he liked it there, he had a calling back to his family. Wall Control is a great example of a company that was transformed from a service-based to a product-based business and has leveraged social media influencers in the DIY home improvement business to promote its brand and products. KUDOS to Richard and his team.
Also, I was honored to be a guest on his podcast, Organization Conversation by Business Radio X. You can listen to the episode here.
Ryan Margolin is the CEO of Professional Hair Labs, a manufacturer and supplier of premium hair products as well as a leader in cosmetic bonding. Building on the company founded by his father, and having joined the company over the last 10 years, Ryan and his brothers (Ryan Margolin as CEO, Daryl Margolin as VP, and David Margolin as COO) have since grown the company to be included in the Inc. 500 fastest growing private companies and are set to carry Professional Hair Labs into the next generation with the aims of continuing a legacy of safety, quality, and efficacy in the beauty industry.
Chris Lonergan, a next-generation leader in the employee benefits industry, is the president of Communication Partners, a marketing communications firm serving large employers with their employee benefit plans, and CEO at BenefitElect, a software company founded by his father, serving large employers with a comprehensive benefits management tool. Chris and his leadership team became a client of Jonathan after reading the Built to Sell and Traction books. In this episode, Chris shares his experience of entering the family business and his decision to seek the help of a coach to usher in sweeping change. 
Hillary McPartlon is a past client of Jonathan's and a next-generation leader who is running her father's roofing company in Santa Fe and Taos. As the Chief Executive Officer of McPartlon Roofing and Chair at the National Women in Roofing – New Mexico, Hillary talks about the struggles and realities of women in the roofing industry, how to handle family-owned businesses, and how to navigate it with as much finesse as possible.
Scott Lesak is the owner of Kasel Rocks Landscape Company in Allentown, PA, where he is passionate about bettering the green and snow industries. Scott is a motivational and next-generation leader in the landscape industry, and he drives success in his team by nurturing, coaching, and building trust with his employees. 
Justin White is the CEO of K&D Landscaping, Inc., a fast-growing family business with a handful of related family members in the business. Justin has been a client of Jonathan's for the past eight years — since he took over the leadership of the family business. He has become a national and local success story, recognized and featured in publications like Landscape Management Magazine and is very well-regarded in his community by his employees, customers, leadership team, and suppliers including his bankers, who have featured his company in their promotional materials. In this episode, Justin shares how to run your family business from the ground up and provides lessons not just in entrepreneurship but on empathy, too. 
Jenny Dineen is the co-owner and chief ideation officer and futurist at MacKenzie Corporation, a second-generation business, founded in 1985 by her father, that she runs with her sibling. MacKenzie Corp empowers brands with the data-driven insights needed to deliver remarkable customer experiences and achieve results that matter. In this episode, she dives deep into the topic of running customer insights. Jenny's true passion is to inspire people/companies to think beyond what they're currently doing and empower them to act on that inspiration.
Nikè Anani is a speaker, author, legacy planning consultant, next-generation coach, and family meetings facilitator who grew up in a large successful family business in Lagos, Nigeria where she was the CEO of a single family office. In this episode, Nikè shares her extensive experience working passionately with second-generation family business owners, especially women and family firms in Lagos, Nigeria. 
Heidi Ellsworth is the president of RoofersCoffeeShop®, a family business providing a digital, online equivalent of the coffee shop for roofers. In this episode, she shares her extensive knowledge in the roofing industry and how she helps companies by supporting marketing strategies, sales, success, and content development. Her company, like several other of our clients and guest, is running her business on EOS® – an operating system with simple tools for managing your meetings, team, goals, and more.  
Ben and David Grossman are the co-presidents of Grossman Marketing Group, a global brand marketing agency and fourth-generation business. Brothers Ben & David talk about their story in assuming the family business that's been around for 111 years and the measures they've taken that have made them stand out in their management as fourth-generation leaders.
Sean Salas is the CEO of Camino Financial, a fintech platform that pioneers the access of underbanked Latinx businesses to affordable credit. In this episode, Sean shares his story of what it's like to be raised by an entrepreneurial mother whom he and his twin brother witnessed lose her chain of restaurants in Los Angeles when they were just twelve years old due to a lack of capital and resources. From that day forward the commitment to support underserved small businesses was born.  
Ken Monroe is the president of HOLT of California, a company that is part of the elite group of Caterpillar Construction machinery (also known as CAT) dealers worldwide that are based in Northern Central California. He took part in his family's legacy as a 2nd generation in a 4th generation business. In this episode, Ken talks about how he worked his way starting as a salesperson to succeeding in the business and turning it into an elite organization that employs over 650 employees.
Christy Crook is the founder and president of Phoenix Masonry Inc. Christy is a next-generation leader who started her success story with humble beginnings, being directly exposed to the construction industry by following her dad around on job sites. In this episode, she gives a comprehensive rundown of how she made a big break in growing her business in the time of recession and establishing a solid repertoire in a male-dominated industry.
Craig Bundren is the founder of the Bundren Building Arts Foundation and successor of L.D. Bundren Painting, formed by Larry Bundren in 1984 to provide quality finishes to the commercial painting industry. From the small beginnings of a two-man office in Houston, TX, they have grown to a company capable of competing in any market. Craig's vision for the foundation is a vibrant future for communities and local artists. It's his view that art reflects life, where people work, play, and live. In this episode, Craig shares some background on how he got started in the family painting business. 
Trey Taylor is the Chief Executive Officer of Taylor Insurance Services, Managing Director of Trinity | Blue Consulting, and Founding Partner of Ascend Partners. A serial entrepreneur, author of the book A CEO Only Does Three Things, and Managing Partner at Threadneedle, The Taylor Family Office, Trey directs investments for the company, a single-family office with entrepreneurial roots in the financial services industry. In this episode, Trey shares his story of how he started in the family business.
Amber Famminio, an actress turned psychologist joined the family business at a young age and has become the Chief Operating Officer at Umina Brothers has provided outstanding service and high-quality fruits and vegetables to the domestic and international markets for over 100 years. In this episode, Amber shares her insights and background as a next-generation leader in her family business.
Mitzi Perdue is the widow of Frank Perdue, the famous TV pitchman, and entrepreneur behind Perdue Chicken, an $8 billion business, and the daughter of the co-founder of Sheraton Hotels. Her family were farmers in California dating back to 1840 with the Henderson Estate Company. 
In this episode, Mitzi talks about her family businesses, succession, and legacy. Mitzi is the author of many books and the founder of Win This Fight! Stop Human Trafficking, which focused on increasing awareness about labor and sex trafficking and raising funds to support existing organizations engaged in education, prevention, rescue, and rehabilitation.
Make sure to watch both highlight episodes on our YouTube channel and subscribe so you can receive notifications for upcoming episodes:
Family Time, Holidays, It's a Wonderful Life (Part 1)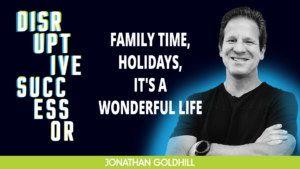 Family Time, Holidays, It's a Wonderful Life (Part 2)